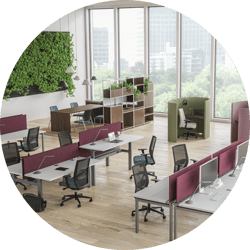 We are a full-service commercial interior design division of Pulse Technology. We specialize in creating functional and beautiful spaces for our clients. Our team consists of talented designers, project managers, and support staff who are passionate about design and dedicated to delivering exceptional results. We offer a wide range of services, from concept development to final installation, and we'll work closely with you to ensure your vision is brought to life. Our design process is collaborative and tailored to meet your unique needs.
A partnership with Pulse gives you access to a team with the right skills and experience to execute your vision. Our clients choose to work with us because they get more value from their investment and better solutions to fit their needs.
We take pride in our work and are committed to providing
the highest level of service and design expertise.